As people have become more aware of the adverse effects of lead-based fuels on the environment, they have started looking for eco-friendly alternatives. And to fulfill this market gap and demand for customers, many companies around the globe have started launching top electric scooters.
This being the case, 2022 seems to be the year when we see an increased number of manufacturers digging deep into their plans to come up with environment-friendly best electric scooters for adults and children.
---
Table of Contents
---
Check out our comprehensive guide to the top electric scooters.
7 Best Electric Scooters
Listed below are the best electric scooters. On the list, there are details on the electric scooter charging time, top speed, travel range, and specifications that make them stand top from the competitors. We hope this information will assist you in choosing the best electric scooter and help the environment.

---
1. Vespa Elettrica
It is impossible to find a scooter more iconic than Vespa. This iconic Italian brand launched a battery-powered version of Vespa's Primavera in 2017 as part of the brand's electric push.
The scooter is a combination of both style and comfort. It tops a speed of 45 mph and can run 70 miles on a single charge. You can take a stroll around the city with comfort because the scooter comes with regenerative braking, Bluetooth, and a TFT screen.
Another great benefit is the battery takes only 4 hours to fully recharge, which is sufficient for a commuter in a city.
---
2. Apollo Phantom
When it comes to riding with style and comfort, the Apollo Phantom electric scooter won't let you down. These scooters are made from high-grade aluminum and designed for comfort.
This means that it has all the best features without any compromise in strength and style. The scooter can top a speed of 38 mph, weighs around 77lbs, and can run for 40 miles on a single charge.
Although it takes around 12 hours to fully recharge you don't have to worry about it because the scooter is designed/comes with a removable battery.
---
3. Turboant M10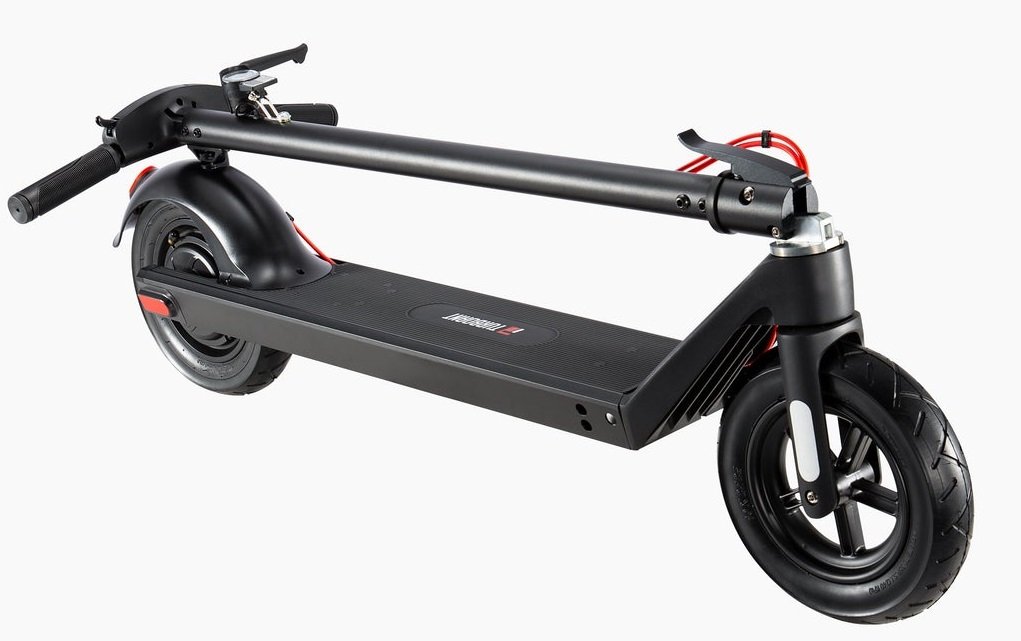 Unlike other scooters, the Turboant M10 is a multiple-purpose scooter that you can buy without burning a hole in your pocket. The M10 scooter is a lightweight foldable scooter that is easy to carry and can be stored anywhere.
With a single charge, the scooter can run for 18 miles and reach a top speed of 20mph. The scooter comes with pneumatic wheels and a good grip which gives the rider more control.
To make the ride safe the M10 also comes with LED lights. All these features make this scooter the perfect choice for your daily commute or taking a stroll around the city.
---
4. Lexmoto LX06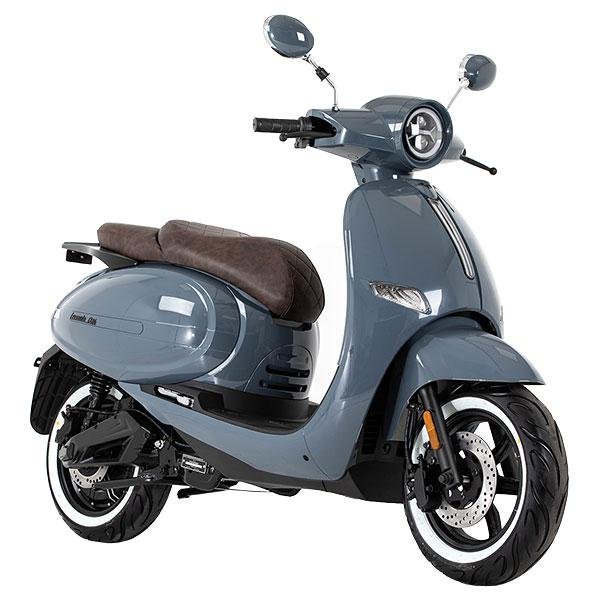 The LX06 scooter is where style meets technology. It's a beast, able to endure even the most strenuous use by a wide range of riders. With this model, you'll find great performance and durability, without any compromise in comfort.
Although the scooter comes with numerous features and still doesn't weigh much, and offers 60 miles of riding range. Also, the scooter comes with a pedestrian mode, to help you ride it with ease in a crowded place.
Furthermore, the scooter is powered by a 4000W BOSCH motor making it ideal for modern riders. With its eco-conscious features and fashion-savvy design, the LX06 is definitely the perfect scooter.
---
5. Glion Dolly
Gillion Dolly is an ultra-folding design electric scooter making it an ideal one for people who need to take public transportation. The scooter is lightweight weighing only 27.3 pounds.
With a maximum speed of 15 miles per hour and a range of 15 miles, this is an ideal vehicle for small cities. It includes an integrated tail reflector, and integrated fenders to protect the wheels from damage during the winter.
Glion Dolly not only boasts a portable design but also includes a kickstand that ensures its upright stay when not in use. You won't have to burn a hole in your pocket to ride this amazing high-quality scooter.
---
6. Levy Electric Scooter
With its attractive design and practical advantages, Levy Electric Scooter is an electric scooter favored by the younger demographic. With a speed of 20 mph, the scooter can run for 10 miles on a full charge.
A unique feature this scooter offers is turning the stopping energy into charge. Also, the scooter comes with a replaceable battery as young riders like to take their scooters on long rides rather than driving from one charging station to another.
The Levy Electric Scooter is priced more or less in line with other scooters on the market. Overall, it's a solid purchase: Quickly charges, looks good, and it's fast.
---
7. Kugoo G-Booster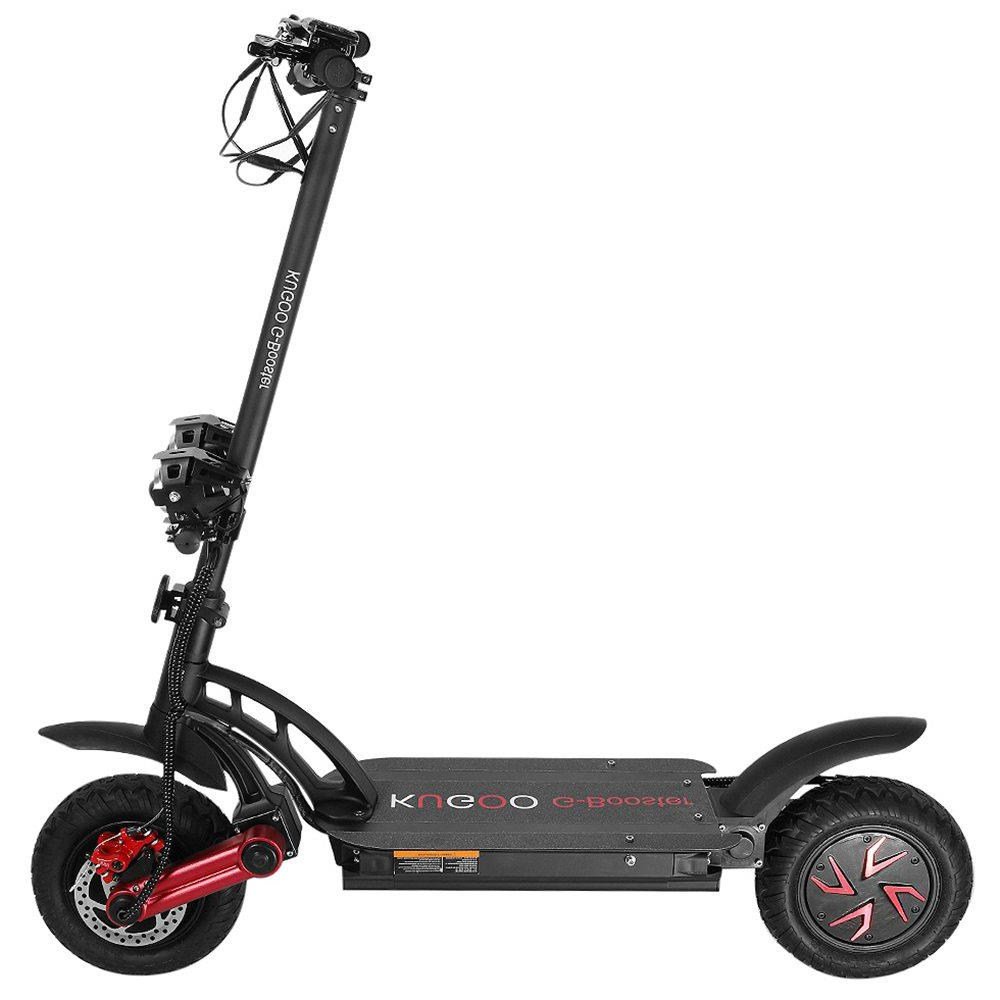 Among brands that offer the most value for money, Kugoo stands out. Kugoo G-Booster offers high-speed, solid performance, and outstanding durability. The scooter is powered by dual motors of 1200 and 2400 watts, which offers a speed of 34 mph and a running range of 53 miles.
Its 10-inch pneumatic wheels offer riders a smooth ride around the city. As its suspension system works in concert with the wheels and air-filled tires, you won't feel any bumps. And with an almost silent motor, it is fast, powerful, and will deliver smooth handling from the start till the end of your journey.
---
Final Thoughts:
We are set to see electric scooters become a common mode of transportation very soon. With pollution becoming increasingly problematic and gas prices rising daily, electric scooters and bikes are gaining popularity rapidly.
According to Statista, the E-scooter market segment is expected to grow by 2,888 million by 2026 at a CAGR of 13.30%. Consequently, the fastest electric scooters of decent quality are among the most in-demand items around the globe today and will have a user penetration of 1.6% by 2026.
We hope these electric scooter reviews in the article will be helpful for you to choose the right one.