Yes, GIF and Mp4 both are well-known formats for certain purposes. Gif files are loaded with both animated as well as static images. While Mp4 is always referred to as a universal file type. There are certain places where you need to make an Mp4 from a GIF file and you start seeking an online GIF to MP4 converter to attain instant results. 
Well, we will be going to reveal some best ways that help to convert GIFs to video Mp4 on every device. Let's find it!
---
Table of Contents
---
Why Convert GIF to MP4?
No doubt that Mp4 videos are weighs 5 to 10 times lighter as compared to GIF files. Even Mp4 provides you with rich color, high resolution, and engaging audio. This is why Mp4 files have an advantage over GIF graphic files and conversion occurs. 
Adobe Creative Cloud Express:
This utility is indicated as a series of web and mobile app-dependent video editing tools for all content creators. You just ought to upload GIF images to Adobe online GIF to Mp4 converter and then simply trim the GIF and directly download the converted Mp4 video to your local PC drive. This converter takes less than a minute to save gifs as mp4 video files, give it a try to get instant results. 
Why Use:
100% free and quite easy interface to proceed with GIF animated to Mp4 file conversions

Provides you with a gif-trimming feature

The upside is that it is available both online and App Store 

No additional software to download for particular conversions
Online-Convert.com:

It is another powerful GIF to Mp4 converter-free tool that performs a great conversion job. As its name reveals that it is an online converter that only requires a web-based browser and an internet connection to export GIFs as Mp4 video files online. In simple terms, you can use this handy tool anywhere, anytime, as long as you have internet access. 
The most appealing reason to add this online converter to the list is that it lets you convert multiple files at the same time. This is said to be an ideal GIF-to-video converter since it is free and easy to use.
Why Use:
Fast and free conversions 

The great thing is that no software installation is needed for saving gifs as mp4.  

Assists you in converting multiple GIFs simultaneously. 

You can be able to change video and audio settings with a couple of taps.
Theonlineconverter.com:
This tool is the expert's choice site that makes file conversions quite easy. Although it is a 100% free website among all other converters, still provided you with quality conversions without any file and results in distortion. Its GIF-to-MP4 converter is always at the top of the list for converting static or animated gif frames into Mp4 video files.
Also, if you have a bunch of GIF files and your conversions tasks involve batch conversions, then this GIF-to-video converter always provides you with stunning outcomes.
Why Use:
Besides GIF to Mp4 video, it supports conversions for different other file types such as (audio, video, image, document, PDF, and much more

Support batch media file conversions

100% free

No registration and installation required

Loaded with quality preservation feature
CloudConvert: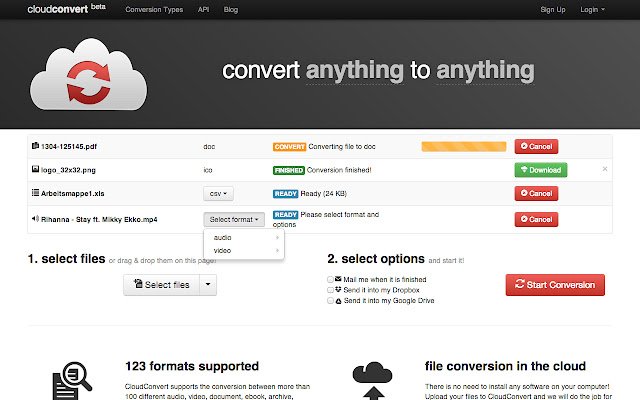 Cloudconvert provided you with an online GIF to MP4 converter that helps you to turn GIF files into video format such as Mp4 within a couple of clicks. Besides that, it also supports a wide array of file formats including PNG, JPG, GIF, WebP, and different others. 
Moreover, this handy tool lets you change image resolution, quality, and file size within no time. GIF to Mp4 conversion is really simple and only requires a couple of seconds. 
Why Use:
Fully fast, reliable, and free. 

The upside is that no ads on the site. 

It lets you proceed with a certain type of parallel conversions.  

Allow you to change video and audio settings.
Convertio:
An online GIF to MP4 converter by Convertio has made GIF images to Mp4 video conversion much easier than ever. Also, it is a 100% free video converter that is loaded with a simple interface, which means you only require to do a couple of clicks to get your GIF file converted to MP4. 
All you need to upload GIF files, then you simply need to select "to Mp4" given the option, and now simply download your Mp4 file right afterward. 
Why Use:
Provides you with 100% free and swift conversions. 

You can be able to add several files at once for batch conversions

No third-party software downloading is required for media and other file conversions

Supports different other file formats
GIPHY:

GIPHY is indicated as the largest and most well-known source of GIF files and stickers in cyberspace. Although there's no specific GIF to MP4 converter, you simply have to stick with its Instagram share features that let you directly convert an existing GIF to video Mp4 files. Yes, it works in less than a second!
On Browser:
All you need to visit GIPHY's website > select a GIF file that you aim to convert into an Mp4 video > hit the Share button > tap on the Instagram icon > and then add your email address in the given pop-up window. Very next, you can see that GIPHY will swiftly share a 15-second Mp4 video of the same GIF into your inbox.
On GIPHY's Mobile App (IOS, Android):
You just require to open GIPHY's app on your mobile phone > then choose a GF > hit the "Share" icon (it looks like a plane, then make tap on the given Instagram icon > then close the GIPHY – you will see that selected GIF file will be converted automatically to an around 15-second MP4 video file and even saved in your mobile camera Roll or photo album. 
Why Use:
Specifically designed for GIF formats

Experts choose GIF to MP4 converter

Works best on all platforms

Provides you with both paid and free versions
AnyConv:
This is also one of the best GIF to MP4 converter utilities that works tremendously on any OS (Operating System) that is loaded with a web-based browser. No special software or installation process involves to turn GIF into an Mp4 file. 
The upside of this GIF-to-video converter is that it is 100% free and even the media file conversion process is too fast. You are just required to add a GIF graphic file, hit the Convert icon, and wait for a couple of seconds to get the quality MP4 video file. 
Why Use:
Pretty fast and 100% free

Add several media files at once (supports batch conversions)

No complicated steps and installation required
3D GIF:
Give a try to this online GIF to Mp4 converter through which the GIF file to MP4 video conversion becomes easier, faster, and even much better. Moreover, this tool allows you to run GIFs into Mp4 Instagram swiftly. Apart from that, it also lets you work with Twitter, GIPHY, Reddit, and different other sources. 
All you need to export the GIF graphic file and simply share it on the social media platforms such as Instagram, Facebook, WhatsApp, or even also into the iPhone gallery.
Why Use:
Multi-platform supported

Free GIF conversions

Provides you with original-quality preservation

No registration 
Conclusion:
To summarize the article in a few words, through this piece of content you learned about how to convert Gif to an Mp4 video file. We have mentioned how to use each platform for converting the GIFs to MP4 videos. Visit BlackBuck Magazine for more how-to articles.